My 34th birthday wish
This year I have decided to give my birthday towards the education of disadvantaged children. Nothing is better than sharing your joy with the people that need it the most.
In 2017, with your support, we managed to help 2 children stay in school, giving them a better chance to escape poverty. Please take a look at this page and consider using my birthday as a pretext to helping more. Your support can make a huge difference. 
THE REASON
What is Teach for Romania, their mission and their values?

Teach for Romania is a Non-Governmental Organization with a mission to recruit and select the most valuable young Romanians, train them as inspirational teachers and support them to become leaders in Romanian education. Teach for Romania's vision is to create life options through quality education for every child in Romania.
It aims to attract top graduates who would not have normally considered the teaching profession among their future professional options. The model works successfully in 45 countries across 6 continents, where it is implemented by the partner organizations of the Teach for All network.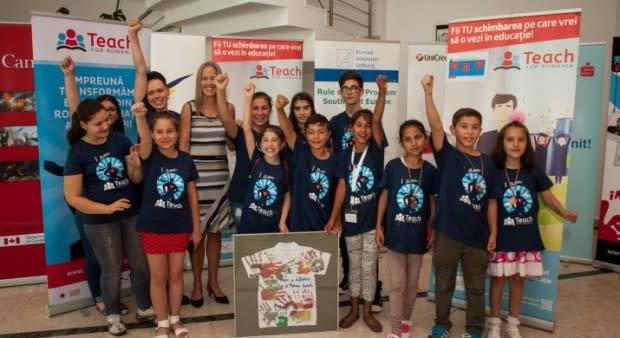 What are the main issues we are trying to solve?
Student motivation: According to the most recent international education study performed by PISA (OECD), Romanian students are the least motivated to study of all students from a group of 65 countries analysed. Other recent international studies demonstrate that Romania's education system ranks towards the bottom of both European and global rankings.
School drop-out rates: Romania has a 17.4% average drop-out rate, compared to 12.8% which is the European Union average. This is more pronounced in the rural than the urban communities, however the figures are slowly increasing in both sub-categories.
High school graduation rates: Among students who remain in school through the 12th grade, only 56% passed the national high school graduation exam ("Bacalaureat") in 2013, latest data available. The figures above, as well as others published in recent years, demonstrate that Romania suffers from an overall lack of quality education as well as an inequality of access.
What are the funds for / where is your money going to?
All the funds raised in this campaign will go towards sponsoring one teacher - which means supporting the education of over 150 children - for the academic year.
Teach for Romania has had a tremendous success over the past few years since its inception in 2014 and continues to grow. This year's aim is to focus on the organization's sustainability, curriculum development and increase the overall quality of the programme.
More about Teach for Romania at: http://en.teachforromania.org/
Why am I doing this?
Helping underpriviledged children has always been an important part of my life. From organising Christmas charity appeals, to funding scholarships or climbing Kilimanjaro for charity, I have tried to give something back in the best way that I can.
I came to the conclusion that the only way of making a lasting change and give those children a chance to succeed in life is by promoting access to quality education and making it available to those communities who need it the most. The education and qualifications children receive, as well as the environment they develop in, are crucial for the opportunities they would have later on.
So rather than waiting on miracles to happen, let's teach those children how to fish.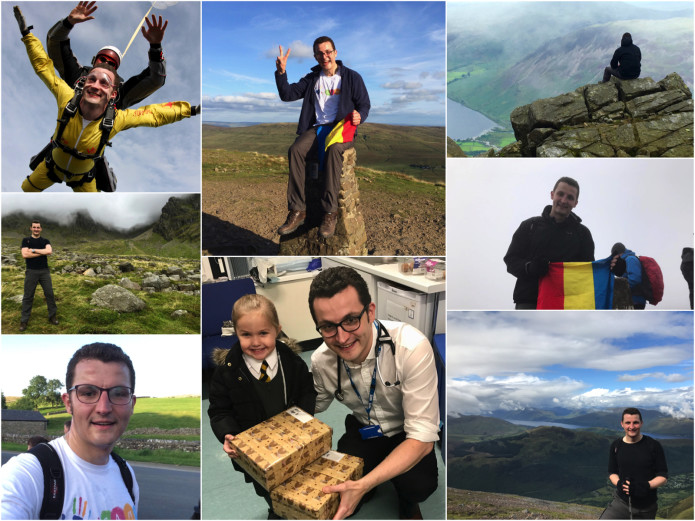 How can you help?
1) Please share the fundraising link via social network (Facebook, Twitter, LinkedIn etc) and distribute directly to those interested in this cause (family, friends, your colleagues, people who care and can help).
2) Please donate. Contributions are highly encouraged and needed to reach the campaign goal. 
3) Please stay involved beyond the end of this fundraising campaign so that we continue to build a better education system and create opportunities through quality education for every child in Romania.
---
Educație de calitate pentru toți copiii din România!
Teach for Romania este o organizație non-profit care activează din 2014 și care a adus un sistem de performanță în educația din sistemul public din România. Pentru împlinirea viziunii, educație de calitate pentru toți copiii din România, organizația atrage și pregătește cei mai talentați oameni din România pentru a deveni agenți de transformare  în sistemul educațional românesc, din rolurile de profesori și învățători pentru copiii din medii vulnerabile.
Citeşte poveştile profesorilor!
Căutăm constant acei oameni care cred în educație de calitate și în potențialul fiecărui copil, care abordează dificultățile și provocările cu optimism și cu perspectiva posibilității. Oameni cărora le pasă și care #nurenunță în fața obstacolelor. Din septembrie 2018, 76 de profesori și învățători s-au luat la trântă cu "nu se poate" și investesc timp, energie și pasiune în povestea educației, în aproximativ 100 de școli, din 18 județe.
De ce să ne susții?
Știai că, în România, 1 din 5 copii nu finalizează învățământul obligatoriu? Cauzele sunt multiple, însă un lucru e cert: calitatea educației pe care acesta o primește până la vârsta de 15 ani și mediul în care crește sunt determinante pentru parcursul său ulterior în viață.
Cu pasiune și cu o motivație puternică de a produce o schimbare pozitivă pentru cei din jur, profesorii și învățătorii susținuți prin Programul Teach for Romania facilitatează accesul la educație de calitate, experiențe reale de învățare, dezvoltare continuă și sprijin în valorificarea potențialului maxim al fiecărui copil cu care lucrează. Prin performanța și atitudinea din cadrul orelor de curs, învățătorii și profesorii susținuți de Teach for Romania creează o relație deschisă cu elevii lor, bazată pe încredere, respect și comunicare.

Donația ta ne ajută să construim viitorul copiilor de astăzi, al generației de mâine, un viitor sprijinit pe un sistem de valori în care autenticitatea, integritatea, determinarea, excelența, învațarea continuă, colaborarea, grija față de semeni și echilibrul sunt cele care îmbracă abilitățile, competențele, dorințele, gândurile și faptele.
Toate fondurile strânse merg către susținerea și pregătirea profesorilor și învățătorilor din cele două generații. Mai multe detalii despre program și cum funcționează, pe site: http://teachforromania.org.

Ne bucurăm și îți mulțumim că ești unul dintre cei care își doresc ca, într-o zi, fiecare copil din România să aibă acces la o educație de calitate!
Echipa Teach for Romania
http://teachforromania.org/implica-te/
http://teachforromania.org/implica-te/doilasuta/
În România rurală, un sfert din copii abandonează școala până la 14 ani. Și odată cu școala, visurile. În satele din România, abandonul școlar se predă acasă, din generație în generație. Rezulatele testării PISA publicate in 2019 arată că aproape jumătate dintre copiii de 15 ani care merg la școală suferă de analfabestism funțional - pot scrie, pot citi, dar nu înteleg informația dintr-un text și nu o pot folosi în viața de zi cu zi. Acești copii ar avea, de exemplu, dificultăți să citească și să înțeleagă manualul de funcționare al mașinii de spălat sau să interpreteze o hartă.
Teach for Romania caută și recrutează în școlile publice vulnerabile oameni care cred în educația de calitate și în potențialul fiecărui copil, care abordează dificultățile și provocările cu optimism și cu perspectiva posibilității. Oameni cărora le pasă și care nu renunță în fața obstacolelor și care pot să producă schimbare de la firul ierbii, acum, din poziția de profesori și învățători pentru copiii din mediile cele mai defavorizate.
În acest moment, Teach for Romania susține peste 130 de profesori care predau în 108 școli din 17 județe. Ajungem acum la aproximativ 10.000 de copii. Împreună, însă, putem mai mult!
Citeşte poveştile profesorilor!
Află cum altfel mai poți contribui!